Where are your snacks made?
All Eat Your Coffee snacks are made in the U.S.A.

Yes! All snacks are 100% vegan.
All Eat Your Coffee snacks do not contain genetically engineered ingredients. The Non-GMO Project seal appears on the majority of our packaging, while some of our other snacks are still pending the official Non-GMO Project certification.
Yes! All EYC snacks are 100% gluten-free.
There is no soy in any of our products.
All of our products either have a cup of coffee (80mg of caffeine) or a shot of espresso (65mg of caffeine) in each one, and always coming from organic coffee. See below for a quick breakdown of each one:
Caffeinated Snack Bars: 80mg of caffeine from organic coffee
Caffeinated Keto Bars: 80mg of caffeine from organic coffee
Caffeinated Nut Butters: 65mg of caffeine from organic coffee
Caffeinated Snack Bites: 65mg of caffeine from organic coffee
All snacks contain nuts in some form. If you have a specific allergy, please read the ingredient label carefully to ensure that it is safe for you to eat. Our products are produced in a facility that manufactures tree nuts and peanuts.
All our snack bars and bites are certified kosher with pareve status. AKA, they're #blessed.
Where does the coffee come from?
We have partnered with Cafe Kreyol with their direct trade, organic coffee to help support their mission of alleviating poverty in rural, coffee growing regions. This Direct Trade system they employ, that is now the backbone of Cafe Kreyol, believes that quality and sustainability are parallel. They pay farmers based on the quality of their product and do so by paying up to 300% higher wages than what Fair Trade requires. We are proud to fuel all of you with an edible format of their delicious, direct trade coffee, in order to support the people who make this all possible: the farmers.
What are the natural flavors?
Our natural flavors are derived from plants, vegetables, and/or fruits. They do not contain any artificial or synthetic additives.
How much sugar is in them?
These vary per snack, but each snack contains all or mostly naturally occurring sugar from dates. Our keto snacks use allulose as a natural sweetener and contain and our snack bites contain no added sugar at all!
Fudgy Mocha Latte Caffeinated Snack Bar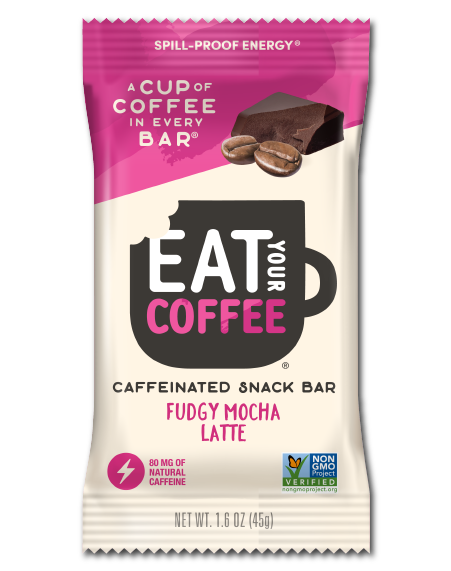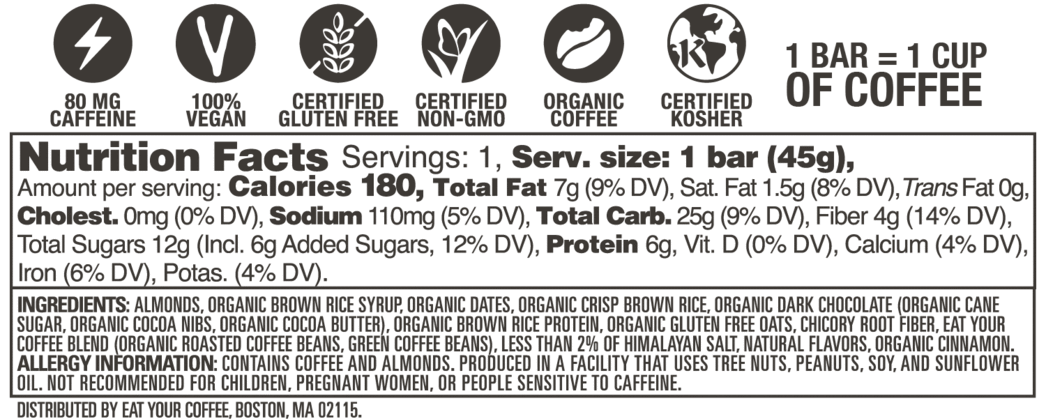 Peanut Butter Mocha Caffeinated Snack Bar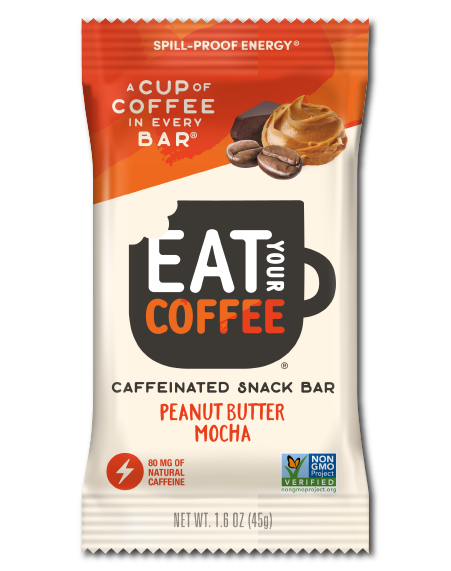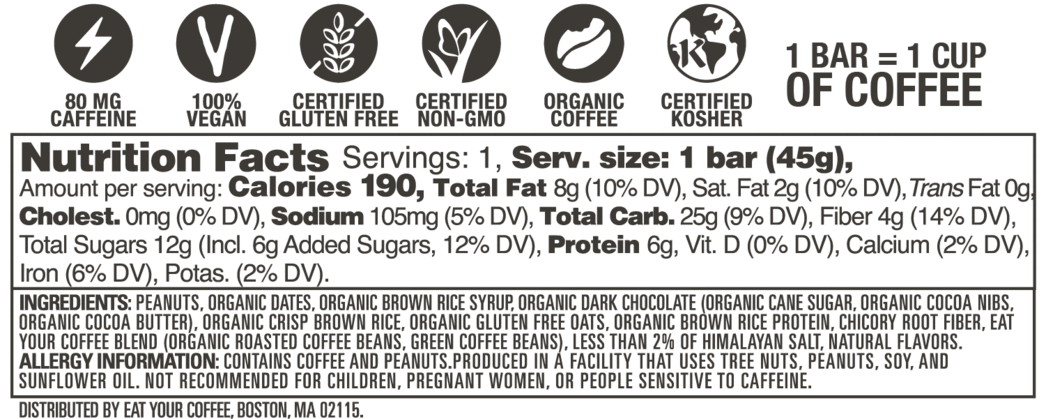 Salted Caramel Macchiato Caffeinated Snack Bar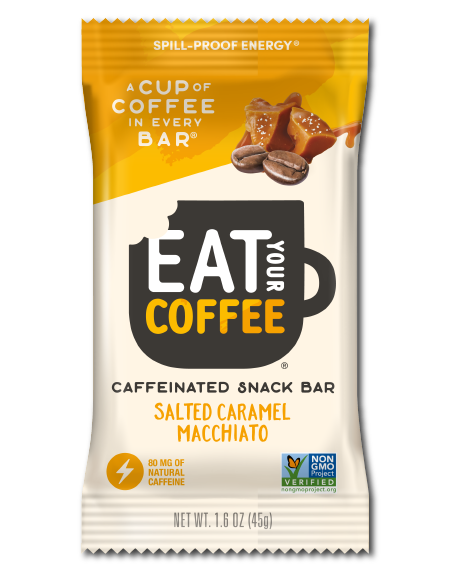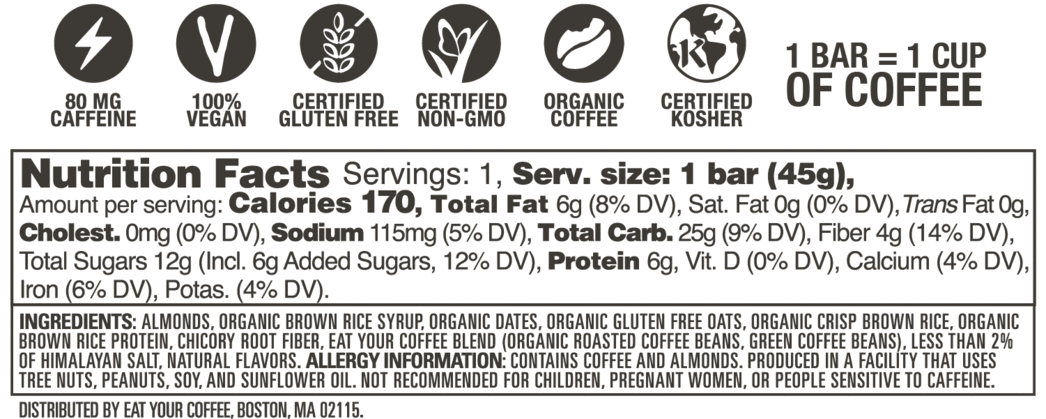 Cocoa Espresso Caffeinated Snack Bite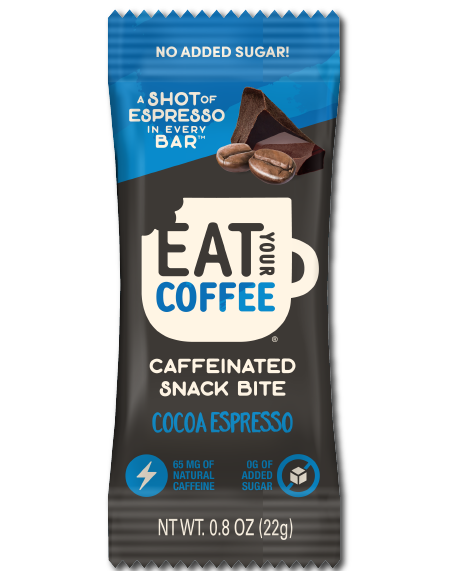 Mocha Mint Caffeinated Snack Bite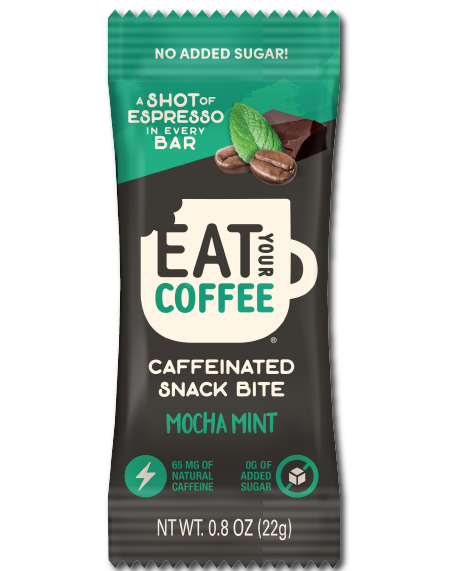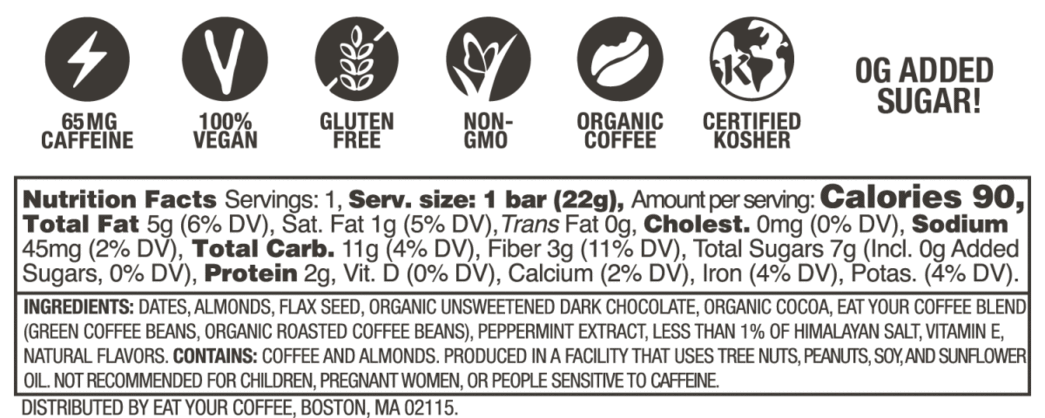 Pumpkin Spice Caffeinated Snack Bite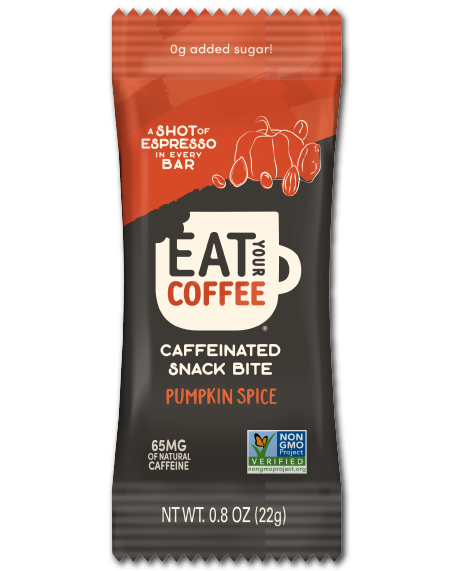 Almond Mocha Caffeinated Keto Bar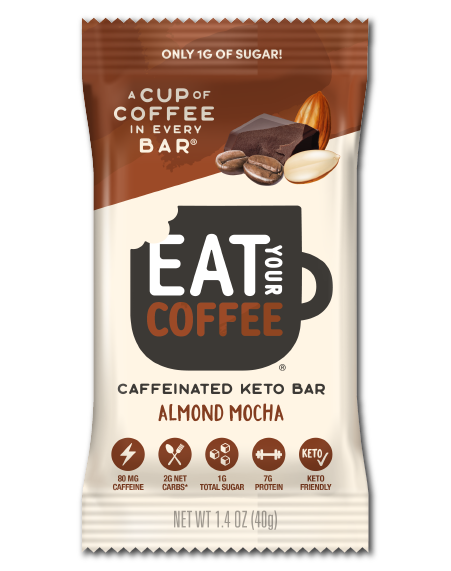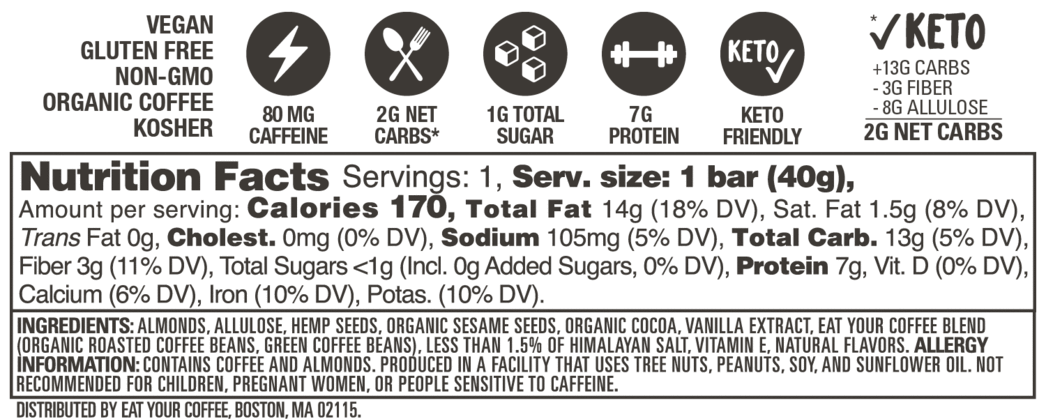 Almond Cappuccino Caffeinated Nut Butter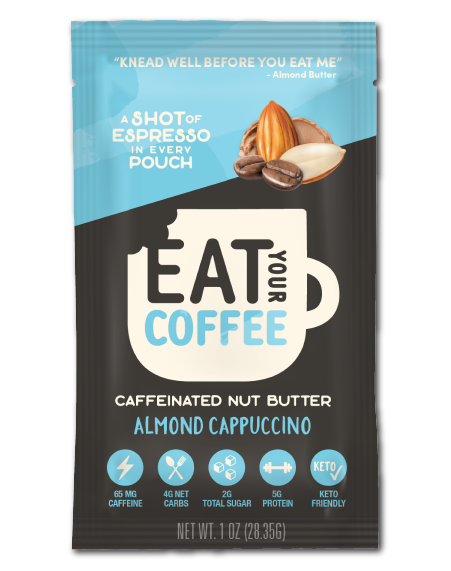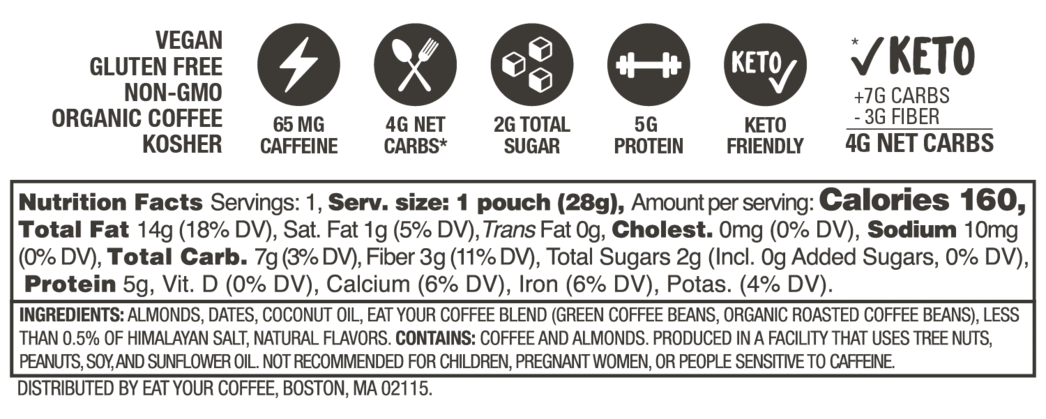 Almond Mochadamia Caffeinated Nut Butter +  MCT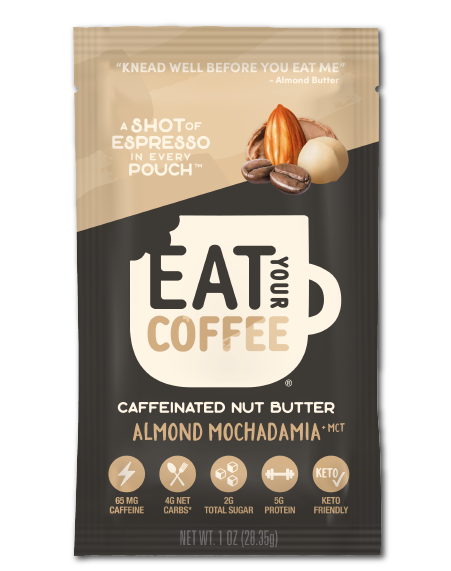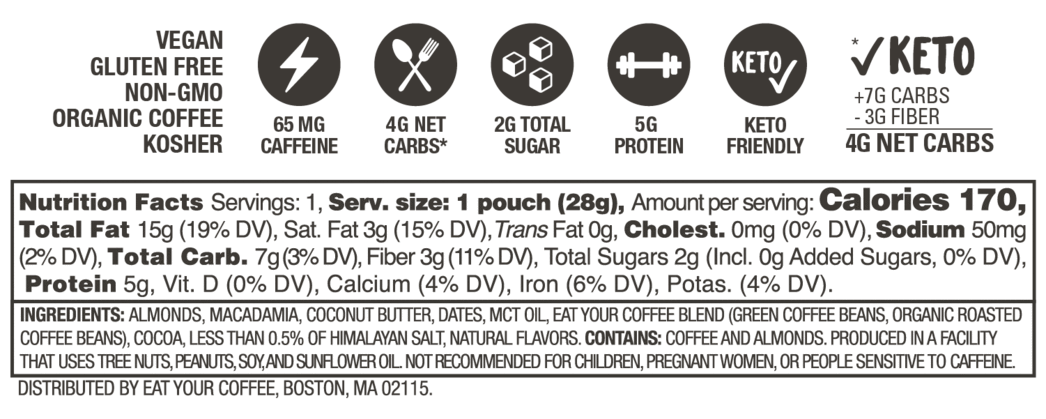 Almond Coconut Caffeinated Nut Butter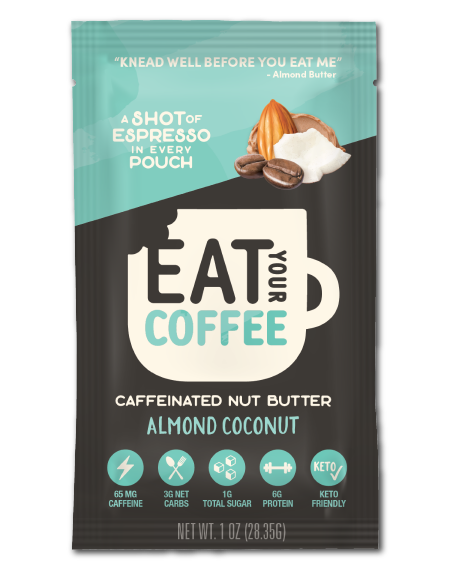 | | | | | |
| --- | --- | --- | --- | --- |
| Caffeinated Snack | Cocoa Espresso Snack Bite | Fudgy Mocha Latte Snack Bar | Keto Almond Mocha Keto Bar | Almond Mochadamia Nut Butter |
| | | | | |
| | | | | |
| | | | | |
| | | | | |
| | | | | |
| | | | | |
| | | | | |
| | | | | |
| | | | | |
| | | | | |
| | | | | |